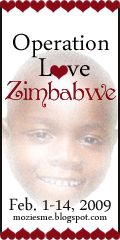 Esmé's Mommy is having a special event on Mozi Esmé right now.
Operation Love Zimbabwe
(Warning: devastating and heartbreaking pic of a sweet baby girl) will be running Feb. 1-14th. I encourage you to check it out.
The operation is simple. Two weeks of African-themed giveaways to attract attention of readers throughout bloggyland. And mixed in with the giveaways, posts that give you a glimpse of the real tragedies in Zimbabwe, as well as ideas on how you can make a difference in the lives of Zimbabweans.